It's that time of year again....Girl Scout Cookies are on sale and I am sure by now you have had the opportunity to be approached by a darling girl like the precious blond pictured with me below with a request to support her troop and order some cookies. If you haven't...I can help you with that. Simply click here
Buy Cookies Now!
. Simply fill in your contact info in place of mine and you are set. Do cookies crimp your diet and fitness goals? Consider donating to the KCM Food Pantry where the girls volunteer. Remember, they freeze for up to a year!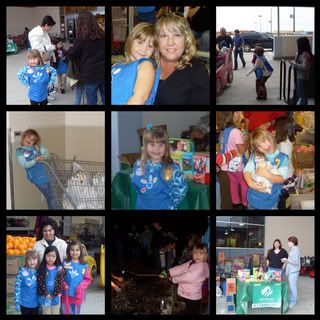 Ever wonder what all of those precious girls do with the money they raise. I put together a little collage of what amazing things my daughter's Daisy Scout Troop did this year...They went to a week of Music, Drama and Art Camp, attended two University of Houston sporting events, went roller skating, had Tea With Mrs Claus and donated time, food and money to our favorite charity, Katy Christian Ministries Food Pantry. The girls earned badges, made friends and grew as young ladies.
So, once you get your cookies. Get creative and try out some of these scrumptious recipes. P.S. They are not just for dessert!
Thai Peanut Chicken
Ingredients

8 crushed Peanut Butter Sandwich® Girl Scout Cookies

2 pounds boneless, skinless chicken tenderloins

Teriyaki glaze

1 box of Pad Thai Noodles

Thai Peanut Sauce

Wood skewers
Directions
1. Grill chicken tenderloins on wood skewers, brushing occasionally with Teriyaki glaze. 2. Prepare Pad Thai noodles according to directions on box. 3. Serve chicken tenderloins with four crushed Peanut Butter Sandwhich® cookies sprinkled on top.4. Mix remaining Peanut Butter Sandwhich® cookie crumbs with peanut sauce. 5. Pour peanut sauce over chicken and noodles, or serve as a side dipping sauce.
Yields 4 servings
Carmel Delight Shrimp
Ingredients
5 extra-large shrimp, peeled and de-veined
5 Carmel Delight® Girl Scout Cookies®, finely chopped
2 cups seasoned bread crumbs
2 cups flour
1 cup coconut flakes
4 egg whites
1 pinch cayenne pepper
1 lime for garnish
Vegetable or peanut oil for frying
Directions
1. Toss coconut flakes with bread crumbs, cayenne pepper and chopped Carmel Delight®
Girl Scout Cookies®. 2. Dredge shrimp through fl our, followed by egg whites and Carmel Delight® Girl Scout Cookies® mixture. 3. Fry shrimp in vegetable oil at 350 degrees until golden brown. 4. Garnish with coconut flakes and lime wedges. Yields 5 shrimp
Serving Suggestions:
• Serve warm. • Arrange in a star pattern on a salad plate, or on a bamboo skewer with tropical fruits. • Can be served as an appetizer, in a salad, or as an entrée. • If serving as an entrée accompany with fried plantains and wild rice.
Shortbread Cheesecake Cup
Ingredients
1 box of Shortbread Girl Scout Cookies
Instant cheesecake pudding mix (check the box for extra ingredients)
12 oz. Cream cheese (softened)
Strawberries
Chocolate syrup
Directions
1. Crush half box of Shortbread Cookies. Mix softened cream cheese and cheesecake pudding until smooth. 2.Layer crushed cookies and cheesecake pudding in a cup and layering of ingredients. 3. Garnish with strawberries (or your favorite berries) and 2 full Shortbread cookies. Drizzle with chocolate syrup.
Yields 8 servings
Peanut Butter Pattie Milkshake
Ingredients
½ box of Peanut Butter Pattie® Girl Scout Cookies
6 cups of vanilla ice cream
1 cup of milk
1 can of whipped cream
Directions
1. Mix cookies, ice cream and milk in blender. Blend until desired thickness. 2. Serve in tall milk shake glass and top with whipped cream. Garnish with crumbled cookies. Yields 2 servings.
CARAMELIZED PEAR AND NUTTY-COOKIE CRUNCH SUNDAE
Ingredients:
8 Shout Outs! Girl Scout Cookies
1/3 cup chopped pecans
2 tablespoons butter
1/4 cup packed light brown sugar
2 ripe, but slightly firm pears, cored and cut into 1/2-inch pieces
Vanilla ice cream
Garnish: 4 Shout Outs! Girl Scout Cookies
Instructions:
Place 8 Shout Outs! cookies in a large self-sealing plastic bag and close. Place bag on cutting board and use rolling pin to crush cookies into coarse crumbs. In a small bowl combine cookie crumbs with pecans; set aside. To make caramelized pears, melt butter in a medium frying pan over medium to medium-low heat. When butter foams, sprinkle the brown sugar over top. Cook until sugar is dissolved, about 3 minutes. Add pear pieces and cook over medium-low heat, stirring occasionally. Cook approximately 4 to 5 minutes or until the sauce is caramelized and the pears start to break down. To make sundaes place half of nutty-cookie crunch in bottom of each serving dish. Scoop ice cream over the nutty-cookie crunch. Top with warm pear sauce and sprinkle with remaining nutty-cookie crunch. To serve, place one Shout Out! on top of each sundae.
Makes:4 servings
Submitted By: ABC Bakers
Chocolate Thin Mint Pizza Supreme
Ingredients:
1 pkg. (18 oz.) refrigerated chocolate chunk cookie dough
1/2 pkg. (19 cookies) Girl Scout Thin Mints
1/2 cup white chocolate morsels
Vanilla ice cream, optional
Instructions:
Press cookie dough evenly in the bottom of an ungreased 12-inch pizza pan or a 13x9x2-inch baking pan. (Dough will barely cover the pan.) Break Thin Mints into halves or thirds; press cookie pieces into dough, covering evenly. Bake at 350 degrees for 12 to 18 minutes or until golden brown. Place white chocolate morsels into a small self-closing bag. Microwave the bag of morsels on MEDIUM HIGH (70% power) for 40 to 50 seconds or until melted. Snip one corner (about 1/8 inch) off the bottom of the bag. Hold bag tightly at top and drizzle white chocolate stripes over top of pizza. When cool, cut pizza into 8 or 10 wedges. If desired, top each serving with a scoop of ice cream.
Makes:8 to 10 servings
Submitted By: ABC Bakers
Chocolate Thanks-A-Lot™ Éclair
Ingredients:
1 package Thanks-A-Lot™cookies
1 (3.4 ounce) package instant vanilla pudding mix
1 1/2 cups milk
1/2 (8 ounce) container frozen whipped topping, thawed
1 (16 ounce) package prepared chocolate frosting
Instructions:
Line the bottom of an 8-inch round cake pan with Thanks-A-Lot™ cookies. In a large bowl, combine pudding mix and milk. Stir well. Stir in whipped topping to pudding mixture. Spread half of mixture over cookie layer. Top with another layer of Thanks-A-Lot™ cookies and the remaining pudding. Top all with a final layer of Thanks-A-Lot™ cookies and frost with chocolate frosting. Refrigerate until serving.
Makes:6 to 8 servings
Submitted By: ABC Bakers